Lincoln in Modern Culture
Abe Lincoln is not just a figure in American history. He's very much an icon in today's culture as well. Take, for instance, this Mountain Dew commercial.

I am not sure what the significance of Lincoln is, in relation to Mountain Dew, but apparently they thought, as a well-known and widely recognized figure, Lincoln would draw the attention. Especially since it is a funny angle on this "surprising" factoid that Lincoln liked wrestling. The fact has to be superficial and non-controversial, of course, and it has to already linger in the public sphere somewhere. The fact that he wrestled and befriended Jack Armstrong of the Clary Grove's Boys, is out there, in all the popular stories, so it can easily be revived in the conscious part of the mind by a simple commercial like this one. Maybe someone should remind the makers of the commercial of the apparently even lesser known fact, that even though the icon Lincoln is always portrayed with a beard, he didn't grow one until late 1860. Therefore, even if Lincoln would have spontaneously burst out of his clothes at the Lincoln-Douglas debates, he would not have had a beard.
And what about this little gem, a scene in from "Extreme Movie":

Disturbing as it is (especially the last part, and the fact that the girl is getting off while still in her jeans), this refers to a more recent observation, that the Great Emancipator may have been gay or bisexual. Yes. Because for a while, he shared an apartment with and slept in the same bed as his friend Joshua Speed. Of course, back in the day, people weren't as homophobic as they are now, and men often shared the same bed if there was no other available. In other words, we're projecting our contemporary values and customs onto the mid-nineteenth century, and interpret their behavior as we would them in our time. Other than speculation about Speed and a body guard who stayed in the same house as Lincoln, there is no evidence whatsoever that he was sexually attracted to men. It is rather an attempt of yet another group of people to claim Lincoln as their own.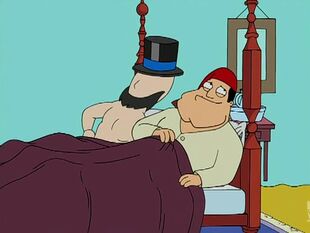 Another, much funnier incorporation
of the theme of homosexuality is done
in the animated series American Dad,
season 2, episode 4, titled "Lincoln Lover."
Then, there's this piece, from Night at the Museum 2. Enjoy!

One of the campaign slogans for Lincoln was, of course, "Honest Abe," which Lincoln himself didn't much fancy, if I am not mistaken (but I am not entirely sure), but it stuck nonetheless. By the way, this nickname was very much rooted in fact, as Lincoln was known to go to lengths to pay back money that he owed, or return money that people accidentally paid too much. Whether it also means that he was honest politically, may be a different matter. I think he was honest, in that he didn't lie, but he was also shrewd (which one has to be, to reach the political heights he did), in that in his replies to questions, he would twist his answers around to what he wanted to convey. (It is hard to explain, but one might look at the letter from Horace Greely and Lincoln's reply, in which he only superficially seemed to respond to the issues. I think it could rightfully called a Red Herring, or simply a distraction from the issue at hand. Distracting may be a political scheme, but it is not, in fact, dishonest.)
And now for something cute!